Alison Belsham initially started writing with the ambition of becoming a screenwriter – and in 2000 was commended for her visual storytelling in the Orange Prize for Screenwriting. In 2001 she was shortlisted in a BBC Drama Writer competition. Life and children intervened but, switching to fiction, in 2009 her novel Domino was selected for the prestigious Adventures in Fiction mentoring scheme. In 2016 she pitched her first crime novel, The Tattoo Thief, at the Pitch Perfect event at the Bloody Scotland Crime Writing Festival and was judged the winner.
Twitter: www.twitter.com/alisonbelsham
Alison Belsham is represented at Jenny Brown Associates by Jenny. For all enquiries contact jenny@jennybrownassociates.com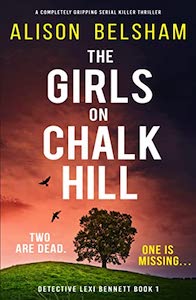 The Girls on Chalk Hill
Bookouture, June 2023
They lie on the hillside, wearing matching white dresses, tiaras in their blonde hair. Each of them clutches a red rose. They could be sleeping, but frost shines on the lashes of their wide blue eyes, frozen open forever…
Detective Lexi Bennett is devastated when she finds the two teenagers lying side by side on the quiet green hillside, their throats cut. Convinced this is no ordinary killer, she vows to draw on all her profiling experience to find justice for these beautiful girls who will never have the chance to grow up.
But when the victims are identified as Lucy and Eden Carter, Lexi's blood turns cold. The sisters were triplets – and the third girl, Paige, is missing. The case suddenly feels frighteningly personal. Lexi was a triplet too, and she and her sisters were abducted as teens. Two of them escaped but Lexi's dreams are still haunted by memories of the faceless man who took them, and her sister Rose, who she never saw again.
Her boss thinks she's too close to the case, but Lexi is sure the monster who took her is back with a message. She throws herself into the investigation, hunting down every clue, certain that time is running out to save Paige.
Then she returns home to find the back door open and Rose's diary on the kitchen table. As she traces her beloved sister's handwriting, her heart breaking, Lexi swears she will not rest until this brutal monster is caught. Will the diary help her find him before Paige is killed? Or is she walking into a trap designed just for her?
The Embalmer
Trapeze, 2020
Has the ancient Egyptian cult of immortality resurfaced in Brighton?
When a freshly-mummified body is discovered at the Brighton Museum of Natural History, Detective Francis Sullivan is at a loss to identify the desiccated woman. But as Egyptian burial jars of body parts with cryptic messages attached start appearing, he realises he has a serial killer on his hands. Revenge, obsession and an ancient religion form a potent mix, unleashing a wave of terror throughout the city. Caught in a race against time while battling his own demons, Francis must fight to uncover the true identity of the Embalmer before it's too late…
Deliciously creepy, The Embalmer grabs you from the beginning, the contrast of modern Brighton working perfectly against the eerie inner world of an Egyptian-obsessed serial killer. Hold on tight as grisly kills mount up across the city, for an ending that won't disappoint. ―Louisa de Lange
Her Last Breath
Trapeze, 2019
The body count is rising…and the clock is ticking.
When a young woman is attacked and left fighting to survive in hospital, the police are pulled into a race against time to save her life. But just 24 hours later, she dies and a deadly tattoo is discovered on her body.
And when another young woman disappears, Detective Francis Sullivan and his team fear a serial killer walks the streets of Brighton.
His team identify a suspect, Alex Mullins, son of Francis's lover, Marni. Can Francis forget their shared past and save the next victim before it is too late?
A gripping crime thriller from the author of The Tattoo Thief.
The Tattoo Thief
Trapeze/Orion, 2018
A policeman on his first murder case
A tattoo artist with a deadly secret
And a twisted serial killer sharpening his blades to kill again…
When Brighton tattoo artist Marni Mullins discovers a flayed body, newly-promoted DI Francis Sullivan needs her help. There's a serial killer at large, slicing tattoos from his victims' bodies while they're still alive. Marni knows the tattooing world like the back of her hand, but has her own reasons to distrust the police. So when she identifies the killer's next target, will she tell Sullivan or go after the Tattoo Thief alone?
A fast-paced serial killer thriller that follows a trail of blood and ink and cut skin through the streets of Brighton.