Brought up in Dorset, America, London, Hong Kong and Wiltshire, Annabelle has worked in photography, event production and marketing. But her passions are in food and writing. Running her own cottage industry making handmade jams, jellies and chutneys she became the recipient of two Great Taste Awards. When writing began to take over her life, she joined the Faber Academy and completed their How to Write a Novel course. Annabelle now lives between Sutherland and Wiltshire, and is putting the final touches to her debut novel, The Lost Garden of Kitty Maclean.
Annabelle's Instagram: @annabellemarx_writes
Annabelle's website: annabellemarx.com
Annabelle Marx is represented at Jenny Brown Associates by Jenny. For all enquiries contact jenny@jennybrownassociates.com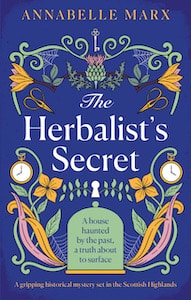 The Herbalist's Secret
Storm Publishing, October 2023
Two small lifeless bodies lay on the sand, arms carefully placed by their sides. On the other side of the loch stands an imposing house. It's almost as if it gives a silent howl of distress, echoing over the hills, making the birds turn their gaze down to the beach where the two bodies lie, awaiting discovery.
1889: Kitty Gray dreams of attending university and becoming a doctor, but when she is married off to Charles Maclean, one of Glasgow's richest and most eligible bachelors, her aspiration suddenly slips far from reach.
Exiled to her new remote home in the Scottish Highlands, with its gargoyles, gothic arches and turrets, Kitty seeks solace in creating a restorative herb garden. Combining her medical knowledge and new-found fascination with herbalism, Kitty spends her days absorbed in a world of herbs and their healing properties until a devastating tragedy strikes…
2003: Caitlin Black arrives at Ardbray House determined to restore the crumbling mansion and Kitty's walled garden to their former glory, enlisting the help of long-time housekeeper Greer Mackenzie. But as Caitlin delves deeper into the history of this once magnificent home, she uncovers a past haunted by misfortune and grief. And beneath the blood-red roses that climb beside the bay window of the drawing room, a human skull is about to be unearthed.
The truth that has held Ardbray House captive for so long is surfacing, and with it, the heart-breaking secret of the herbalist who once lived here.