Born in Fife in 1975, Francis studied medicine at the University of Edinburgh, after which he worked in A&E at the old Royal Edinburgh Hospital. After qualifying as a physician, Francis spent ten years travelling, during which time he visited all seven continents. A keen traveller, Francis has spent time working in India and Africa, has made several trips to the Arctic, and is reported to have crossed Eurasia and Australasia by motorcycle. He was working at the Edinburgh Sick Kids Hospital when he decided to undertake a 15-month position as the resident doctor with the British Antarctic Survey. Empire Antartica, his account of this time, was Scottish Book of the Year 2013 and shortlisted for the Costa Prize, the Ondaatje Prize, the Banff Prize and the Saltire Prize. Adventures in Human Being (2015) has won Saltire Non-Fiction Book of the Year 2015 and first prize in the Basis of Medicine category of the BMA's Medical Book Awards.
Gavin's website: www.gavinfrancis.com
Gavin's Twitter: https://twitter.com/gavinfranc
Gavin Francis is represented at Jenny Brown Associates by Jenny. For all enquiries contact jenny@jennybrownassociates.com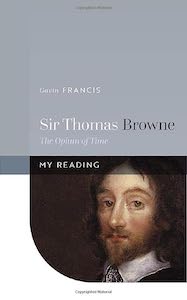 Sir Thomas Browne: The Opium of Time
Oxford University Press, 2023
In this book, Gavin Francis writes about the resonance for him as a medic in reading the work of early modern polymath Sir Thomas Browne.
Sir Thomas Browne (1605–1682) was an English physician, wordsmith, and polymath who contributed hundreds of words to the English language (such as medical, electricity, migrant, and computer). After studying medicine in Montpellier, Padua, and Leiden, he settled in Norwich, where he practised as a doctor and wrote some of the greatest books of the seventeenth century, still read for their accessibility and eloquence.
In Sir Thomas Browne: The Opium of Time, Dr Gavin Francis examines Browne's work through a variety of themes: ambiguity, curiosity, vitality, piety, humility, misogyny, mobility, and mortality. He argues that the work has lost little of its power and wisdom, and none of its beauty. Religio Medici ('Religion of the Doctor') examined the vexed question of faith in a God who, to a physician, seemed indifferent to suffering. Pseudodoxia Epidemica ('Vulgar Errors') gave free rein to an agile curiosity and sought to debunk notions then commonly believed, such as that dead kingfishers indicate the direction of the wind, or that a woman could get pregnant from sharing a bath with a man. Urne Buriall was Browne's meditation on mortality, occasioned by a find of funerary urns, while Museum Clausum ('Hidden Museum') sets out a series of thought experiments and counterfactuals, such as how history might have been different had Alexander the Great marched west instead of east.
Gavin Francis draws on his own experiences as a twenty-first century writer and doctor to discover that although many centuries separate him from Browne, they share a fundamental curiosity about the world and about people.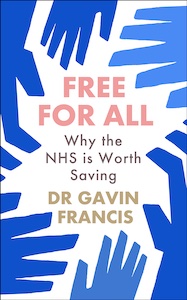 Free For All: Why the NHS is worth saving
Profile, 2023
Britain's health service is dying. Gavin Francis shows us why we should fight for it.
Since its birth in 1948, the powers that be have chipped away at the NHS. Now, Britain's best-loved institution is under greater threat than ever, besieged by a deadly combination of underfunding, understaffing and the predatory private sector. 
In the wake of the pandemic, we have come to accept a 'new normal' of permanent crisis and years-long waiting lists. But, as Gavin Francis reveals in this short, vital book- it doesn't have to be this way, and until recently, it wasn't. Drawing on the history of the NHS as well as his own experience as a GP, he introduces us to the inner workings of an institution that has never been perfect but which transformed the lives and health of millions, for free – and which has never been more important.
For those who believe in the future of the NHS and its founding principles, this is essential reading from the bestselling author of Recovery and Intensive Care.
Recovery: The Lost Art of Convalescence
Profile/Wellcome: January 2022
An uplifting account of hope and healing by the author of Adventures in Human Being.
When it comes to illness, sometimes the end is just the beginning. Recovery and convalescence are words that exist at the periphery of our lives – until we are forced to contend with what they really mean.
Here, GP and writer Gavin Francis explores how – and why – we get better, revealing the many shapes recovery takes, its shifting history and the frequent failure of our modern lives to make adequate space for it.
Characterised by Francis's beautiful prose and his view of medicine as 'the alliance of science and kindness', Recovery is a book about a journey that most of us never intend to make. Along the way, he unfolds a story of hope, transformation, and the everyday miracle of healing.
Intensive Care: A GP, a Community & COVID-19
Profile, 2021
Intensive Care is about how coronavirus emerged, spread across the world and changed all of our lives forever. But it's not, perhaps, the story you expect.
Gavin Francis is a GP who works in both urban and rural communities, splitting his time between Edinburgh and the islands of Orkney. When the pandemic arrived in our society he saw how it affected every walk of life: the anxious teenager, the isolated care home resident, the struggling furloughed worker and homeless ex-prisoner, all united by their vulnerability in the face of a global disaster. And he saw how the true cost of the virus was measured not just in infections, or deaths, or ITU beds, but in the consequences of the measures taken against it.
In this deeply personal account of nine months spent caring for a society in crisis, Francis will take you from rural village streets to local clinics and communal city stairways. And in telling this story, he reveals others: of loneliness and hope, illness and recovery, and of what we can achieve when we care for each other.
Praise for Intensive Care: A GP, a Community & COVID-19
An Observer, New Statesman, Financial Times, Irish Times and Scotsman 2021 Non-Fiction Highlight
Well written, often entertaining and occasionally deeply moving; an unmissable account of a year we will all try too hard to forget. –The Times
Inspiring. I can't recommend it too strongly. You will learn a lot from it, and you will find much more that is encouraging. –Allan Massie, Scotsman
Island Dreams: Mapping An Obsession
Canongate, October 2020
In Island Dreams, Gavin Francis examines our collective fascination with islands. He blends stories of his own travels with psychology, philosophy and great voyages from literature, shedding new light on the importance of islands and isolation in our collective consciousness.
Comparing the life of freedom of thirty years of extraordinary travel from the Faroe Islands to the Aegean, from the Galapagos to the Andaman Islands with a life of responsibility as a doctor, community member and parent approaching middle age, Island Dreams riffs on the twinned poles of rest and motion, independence and attachment, never more relevant than in today's perennially connected world.
Illustrated with maps throughout, this is a celebration of human adventures in the world and within our minds.
Praise for Island Dreams
Gavin Francis is a wonderful writer – thoughtful, engaging, immensely knowledgeable and supremely human. –Bill Bryson
An intoxicating voyage during which maps become fictions and fictions verifiable facts. Myths of returning and older legends carry us out in a shared fugue of obsession and release. Here is a worthy companion to the dream labyrinths of Borges. –Iain Sinclair
A thrilling book – beautiful and spare at once . . . A real achievement. –Tim De
In this charming and beautifully illustrated book, Gavin Francis asks important questions about isolation and connection, and considers the ways in which islands have been imagined and experienced by travellers through the ages. –Malachy Tallack
Shapeshifters : On Medicine & Human Change
Profile, May 2018
To be alive is to be in perpetual change: growing, healing, learning, aging. In Shapeshifters, award-winning writer and doctor Gavin Francis considers the transformations in mind and body that continue across the arc of human life.
Some of these changes we have little choice about. We can't avoid puberty, the menopause, or our hair turning grey. Others may be welcome milestones along our path – a much-wanted pregnancy, a cancer cured, or a long-awaited transition to another gender. We may find ourselves turning down dark paths, towards the cruel distortions of anorexia, or the shifting sands of memory loss. New technologies can upgrade us, and even without them our bodies can transform in rare, almost magical, ways – with gigantism, or the sun-sensitivity and facial hair that led porphyria sufferers, once upon a time, to be suspected as werewolves.
Medicine now has unprecedented power to alter our lives, but that power has limitations. As he helps patients face transformations both temporary and sustained, Francis draws on history, art, literature, myth and magic to show how the very essence of being human is change.
Praise for Shapeshifters
"A thoughtful exploration… Francis's wide-ranging experience and curiosity produce fascinating samples of medical and cultural approaches to human change."–Publishers Weekly
"The heart of the book is about the key life transitions: conception, birth, puberty, pregnancy, menopause, death–and sleep. Francis's method is to weave together stories from his general practice, his medical training and his travels, with a host of quotes, references and anecdotes from art, literature and history. The result is a rich pleasure."–Sunday Times (UK)
"Ambitious… [Francis] is well schooled in the literature of medical curiosities, from Galen to Sir Thomas Browne and beyond. But Shapeshifters is at its best, and strangest, when dealing with mundane translations: puberty, pregnancy, menopause, the not so simple facts of our being sexed beings. Francis has an engaging way with medical-cultural history… Such is the breadth of [his] interests that Shapeshifters is never less than intellectually energetic."–the Guardian (UK)
Adventures in Human Being
Profile Books, April 2015
In association with Wellcome Trust
We have a lifetime's association with our bodies, but for many of us they remain uncharted territory. In Adventures in Human Being, Gavin Francis leads the reader on a journey through health and illness, offering insights on everything from the ribbed surface of the brain to the secret workings of the heart and the womb; from the pulse of life at the wrist to the unique engineering of the foot.
Drawing on his own experiences as a doctor and GP, he blends first-hand case studies with reflections on the way the body has been imagined and portrayed over the millennia. If the body is a foreign country, then to practise medicine is to explore new territory: Francis leads the reader on an adventure through what it means to be human.
Both a user's guide to the body and a celebration of its elegance, this book will transform the way you think about being alive, whether in sickness or in health.
Praise for Adventures in Human Being
A sober and beautiful book about the landscape of the human body: thought-provoking and eloquent. –Hilary Mantel
Wonderful, subtle, unpretentious … produces a kind of complicity between the author, the reader, and the subject. –John Berger
Immensely engaging. –The Sunday Times
I read this book transfixed… The style is crisp and fast and the human tales irresistible. I was left with many nuggets. –The Times
So enthralling and so well written that it should win its own clutch of prizes… immensely engaging and often unexpected. His achievement here is to guide readers through his special landscape with such eloquence and subtlety. –Sunday Times
Grand, eloquent stuff, occasionally humorous, frequently moving and invariably informative… The end result is a thoroughly entertaining, provocative work. –The Observer
Winner of the Saltire Non-Fiction Book of the Year 2015. –First prize in the BMA's Medical Book Awards' Basis of Medicine category
Goodreads: http://www.goodreads.com/book/show/25246544-adventures-in-human-being
Empire Antarctica
Vintage, November 2013
North America: Counterpoint
Gavin Francis fulfilled a lifetime's ambition when he spent fourteen months as the base-camp doctor at Halley, a profoundly isolated British research station on the Caird Coast of Antarctica. So remote, it is said to be easier to evacuate a casualty from the International Space Station than it is to bring someone out of Halley in winter.
Antarctica offered a year of unparalleled silence and solitude, with few distractions and very little human history, but also a rare opportunity to live among emperor penguins, the only species truly at home in the Antarctic. Following the penguins throughout the year – from a summer of perpetual sunshine to months of winter darkness – Gavin Francis explores a world of great beauty conjured from the simplest elements, the hardship of living at 50°C below zero and the unexpected comfort that the penguin community bring.
Goodreads: http://www.goodreads.com/book/show/17465723-empire-antarctica
Praise for Empire Antartica
Empire Antarctica is the embodiment of everything I admire in travel writing – a great journey, intense isolation, wide reading, vivid writing, scientific research, and something in the nature of an old-fashioned ordeal. That Gavin Francis is a medical doctor, with an important role to play in the darkness and cold at the ends of the earth, is a bonus. I loved this book
Paul Theroux
One of the best travel titles I have read in a long time. Thoughtful, lyrical, extremely well written, it's a triumph
Conde Nast Traveller
A beautiful, profound and highly readable account of a remarkable personal adventure. Francis's pacing is deft, his prose vivid, his research worn lightly. This is probably as close as most of us will ever get to experiencing a modern polar winter. Empire Antarctica is surely destined to become a standard, not so much of travel as of staying very still
Daily Telegraph
Francis' best writing (and it is excellent)… is Robert Macfarlane on ice. This writing achieves the 'quilted quality' of silence, and through it we are brought to a new landscape of words
True North: Travels in Artic Europe
Polygon, April 2010
The stark, vast beauty of the remote Arctic Europe landscape has been the focus of human exploration for thousands of years. In this striking blend of travel writing, history and mythology, Gavin Francis offers a unique portrait of the northern fringes of Europe. His journey begins in the Shetland Isles, takes him to the Faroes, Iceland, Greenland, Svalbard and on to Lapland. Following in the footsteps of the region's early pioneers, Francis observes how the region has adapted to the 21st century, giving an observed insight into the lives of people he encounters along the way. As with all the best travel writing, True North is an engaging, compassionate tale of self-discovery, whilst blending historical and contemporary narratives in the tradition of Bruce Chatwin and Robert Macfarlane.
Praise for True North
Fluent, subtle, tough and often beautiful, True North stands alongside Peter Davidson's The Idea of North and Joanna Kavenna's The Ice Museum as a significant recent addition to the Arctic canon
Robert Macfarlane
A great web of interconnecting sagas
The Scotsman
A deep empathy with the land and its history runs like a golden thread through every chapter of True North
The Spectator
Goodreads: http://www.goodreads.com/book/show/6086372-true-north