Keith Gray's debut novel Creepers was published when he was only 24 and was shortlisted for the Guardian Children's Fiction Prize. His subsequent books include Ostrich Boys which was shortlisted for the Carnegie Medal as well as the Costa Children's Book Award and has been adapted for the stage; The Last Soldier which was shortlisted for the Scottish Teen Book Awards; and The Runner which won the Smarties Silver Medal. He's reviewed for both the Guardian and the Scotsman newspapers, he has been on the judging panel of several book awards and is regularly invited to speak in schools and at book festivals all around the world. Keith currently lives with his family in Vienna, Austria, where he co-founded the writer development community, Kulturverein: Sunday Writers' Club.
Keith Gray is represented at Jenny Brown Associates by Lucy. For all enquiries contact lucy@jennybrownassociates.com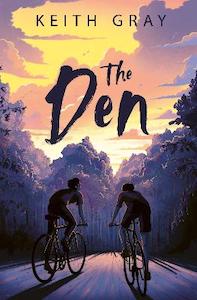 The Den
Barrington Stoke, August 2023
Marshall feels the need to escape because things are so tough at home. Rory is just happy it's the first day of the summer holidays. While out on their bikes they stumble across a long-forgotten underground bunker at the edge of the woods.
This is the den, and going down inside will stretch their friendship to its limits. There will be rivalry and betrayal, but can wrecked relationships be saved before the summer has even begun?
Cover artwork by Tom Clohosy Cole
The Climbers
Barrington Stoke, 2021
Sully is the best tree climber in the village. He can scale Twisted Sister's tangled branches and clamber up Double Trunker with ease. But when new kid Nottingham shows up and astonishes everyone with his climbing skills, Sully's status is under threat and there's only one way to prove who's best.
Sully and Nottingham must race to climb the last unnamed tree. Whoever makes it to the top will become a legend. But something spiteful and ugly has reared its head in Sully … Is it worth losing everything just to reach the top?
CILIP Carnegie Medal Nominated Title 2022
30 best children's books for Christmas 2021 – i newspaper
Spare, brief, limpidly clear, this novella from a multi-award-winning author distils the thin-skinned, painful sensitivity of teenage boys, desperate both to stand out and fit in. –Children's Books Round-Up, Imogen Russell Williams, The Guardian
The Climbers is a moving, surprising story of competition, self-awareness, friendship, and the more you look, the deeper the damn thing gets. –Patrick Ness
Houdini and the Five-Cent Circus
Barrington Stoke, 2018
The world's most amazing magic trick was performed by a boy called Erik Weiz. He transformed himself into Harry Houdini, the most famous magician of all time.
I knew him when he was still called Erik. And this is how the trick was done …
The Chain
Barrington Stoke, 2013
Cal is sick of being the good guy. Joe's dad is a big time loser – can Joe ever be a winner? Ben has two girlfriends – but only loves himself, and Kate has to say the hardest goodbye of all. Four people. Four stories. Four links in the chain. One book, which will change their lives forever.
The Trick
HarperCollins UK, November 2012
"Eric, are you ready to travel to a place you've never been before?" Mathew Masters asked, loud enough for the whole audience to hear. "Are you ready to do something truly magical? Are you ready, Eric, to vanish not somewhere, but Elsewhere?"
Where do you go when you disappear? Or, rather, when you are 'disappeared'. Eric is about to find out when a school trip to a magic show takes an unexpected turn.
The Boswall Kidnapping
HarperCollins UK, January 2011
When Alex's dad drags him to Boswall and Sons, the local department store, he never expects to find himself thrown into a world of kidnap and spies.
The Return of Johnny Kemp
Published May 2009 by Barrington Stoke
"If I tell you to run, then run, right? And I mean fast."
Dan grassed up Johnny Kemp. No one else was stupid enough to mess with Johnny. Just Dan. Now Johnny Kemp is back, and he's out for blood…
Ostrich Boys
Published May 2009 by Barrington Stoke
Kenny, Sim and Blake are about to embark on a remarkable journey. Stealing the urn that contains the ashes of their best friend Ross, they set out to travel 261 miles from Cleethorpes on the English east coast to the tiny hamlet of Ross in southern Scotland. After a depressing and dispiriting funeral they feel that taking Ross to Ross will be a fitting memorial for a fifteen year-old boy who changed all their lives through his friendship.
Published by Random House Children's Publishers UK, 2008
The Last Soldier
Published by Barrington Stoke, 2015
Nothing much happens in Joe and Wade's dusty town. There's not much excitement in Joe and his brother's lives – just grinding poverty and the occasional run-in with the neighbours. The only highlight is the arrival of the carnival, with its mermaid, wolfman and baby dragon. This year, there's a new attraction – the Last Soldier of World War One. What message does he have for the boys…?
You Killed Me!
Published by Barrington Stoke, 2013
Len Grimsby is dead and he blames Toby. When Len's ghost appears at the end of his bed, Toby is taken back in time to see the repercussions of his actions and unravel the series of events that led to Len's death. Can he save Len from being killed? Gripping ghost story from a critically acclaimed writer.
Published by Barrington Stoke, 2013
Other Titles
Next (2012), Losing It (2010), Hoodlum (2010), The Fearful (2005), Malarkey (2003), Before Night Falls (2003), Warehouse (2002), £10,000 (2001), Happy (1998), The Runner (1998), From Blood: Two Brothers (1997), Dead Trouble (1997), Creepers (1996), Hunting The Cat (1996).