Kimberlie is a non-fiction writer with an MFA degree in Screenwriting from the University of California in Los Angeles. She is passionate about animals and serves on the board of FixNation, a non-profit in LA that helps homeless cats and she also supports a number of UK charities (including Willows Animal Sanctuary, Cats Protection, the SSPCA and the PDSA). A prolific blogger with a passion for digital storytelling, specialising in travel, history, culture, human interest stories and various animal-related topics, she recently relocated to Scotland where she lives with four cats.
Kimberlie's website: https://kimberliehamilton.co.uk
Twitter: @kimberlie1967
Instagram: @kimberlie.hamilton
Kimberlie Hamilton is represented at Jenny Brown Associates by Lucy – lucy@jennybrownassociates.com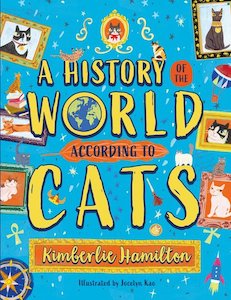 A History of the World According to Cats
Scholastic, September 2023
Cats have prowled Earth for millennia, yet the history of the world has always been told through the eyes of humans. But now it's time to – finally! – set the record straight and uncover the key role that cats have played in shaping the course of history.
Full of real-life stories, this book takes a look at the world's history through feline eyes.
Illustrated by Jocelyn Kao
Rebel Animals at Risk
Scholastic, March 2021
This beautifully illustrated collection tells the story of over 60 real-life courageous creatures. With incredible facts about animals from all seven continents and the oceans of the world – from Diego, the age-defying tortoise, to Koko, the beloved gorilla that learned to communicate using sign language.
Generation Hope
Scholastic, April 2020
Looks at everything from climate change and plastic pollution to radical kindness and animal welfare. Facts, stats and practical tips for taking action are laid out in a clear graphic style, with issues explained in a bite-sized, easy-to-read way. Introduces 20 global issues and many change-makers, like Greta Thunberg, who are doing something to make the world a better place. Risa Rodel is the illustrator.
Rebel Dogs
Scholastic, August 2019
An engaging collection packed with over 30 real-life dogs, including film stars with fur, hounds that love to help, superstars of science and war heroes – these rebel dogs are the stars of their own stories. Plus incredible facts on record-making dogs, internet-sensation pups and much, much more.
Rebel Cats
Scholastic, November 2018
An engaging collection of over 30 real-life stories about cats who are the heroes of their own stories, Rebel Cats introduces us to fur-raising facts and adventures from around the world and across the centuries. Plus information on cat activism, feline myths and much, much more.