Raised in Glasgow, Sally Magnusson is a Scottish writer and broadcaster. She began her career at The Scotsman before moving to the BBC, notably as a long-serving presenter of BBC Scotland's Reporting Scotland news programme. She has worked on a range of programmes, including BBC Breakfast Time, BBC 2's The Daily Politics, Panorama and Songs of Praise. She is the founder and chair of Playlist for Life, a charity that encourages access to personalised music on iPods for people with dementia.
In 2009 Sally received an honorary Doctorate of Letters from Glasgow Caledonian University. Her memoir of her mother's dementia, Where Memories Go, won her the Glenfiddich Spirit of Scotland Award for Writing in 2014 as well as being shortlisted for the Saltire Literary Book of the Year award.
Sally's Twitter: https://twitter.com/sallymag1
Sally Magnusson is represented at Jenny Brown Associates by Jenny. For all enquiries contact jenny@jennybrownassociates.com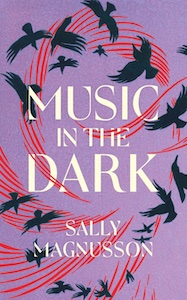 Music in the Dark
John Murray, May 2023
'There is nothing tentative about Sally Magnusson's new novel; it is a fine piece of craftsmanship. She tackels the dual timescale with perfect assurance. Set in the 1840s and 1880s, it's theme is loss redeemed by love and tenderness . . . It has what Ford Madox Ford thought the mark of a great novel: the ability to make you think and feel at the same time.' The Scotsman
Jamesina Ross is long finished with men. But one night a stranger seeking lodgings knocks on the door of her tenement flat. He doesn't recognise her, but she remembers him at once. Not that she plans to mention it. She has no intention of trusting anyone enough to let herself be vulnerable again.
A lifetime ago Jamesina Ross was bent on becoming a writer. She had a facility with words. She made up songs about the Highland glen where she lived and the kin who had worked that land for generations. When her community was threatened with eviction, she gave voice to that too. The women stood together, defiant and determined, but Jamesina's music was no match for one of the most brutal confrontations of the Highland Clearances.
Jamesina has borne the disfigurements of that day ever since, on her face and inside her head. It marked the end of a life of promise and the beginning of a very different one. Her lodger thinks that if she would only dare to open the past, she might have the chance of a future.
A beautiful exploration of unlooked-for love in later life, its contrariness and its awkward, surprising joys, this is a story about resilience, memory, resurrection – and those parts of who we are that nobody can take away.
The Ninth Child
Two Roads, 19 March 2020
Loch Katrine waterworks, 1856. A Highland wilderness fast becoming an industrial wasteland. No place for a lady.
Isabel Aird is aghast when her husband is appointed doctor to an extraordinary waterworks being built miles from the city. But Isabel, denied the motherhood role that is expected of her by a succession of miscarriages, finds unexpected consolation in a place where she can feel the presence of her unborn children and begin to work out what her life in Victorian society is for.
The hills echo with the gunpowder blasts of hundreds of navvies tunnelling day and night to bring clean water to diseased Glasgow thirty miles away – digging so deep that there are those who worry they are disturbing the land of faery itself. Here, just inside the Highland line, the membrane between the modern world and the ancient unseen places is very thin.
With new life quickening within her again, Isabel can only wait. But a darker presence has also emerged from the gunpowder smoke. And he is waiting too.
Inspired by the mysterious death of seventeenth-century Robert Kirke and set in a pivotal era two centuries later when engineering innovation flourished but women did not, The Ninth Child blends folklore with historical realism in a spellbinding narrative.
The Sealwoman's Gift
1627. In a notorious historical event, pirates raided the coast of Iceland and abducted 400 people into slavery in Algiers. Among them a pastor, his wife, and their children.
In her acclaimed debut novel, Sally Magnusson imagines what history does not record: the experience of Asta, the pastor's wife, as she faces her losses with the one thing left to her – the stories from home – and forges an ambiguous bond with the man who bought her.
Uplifting, moving, and witty, The Sealwoman's Gift speaks across centuries and oceans about loss, love, resilience and redemption.
Praise for The Sealwoman's Gift
'A remarkable feat of imagination… I enjoyed and admired it in equal measure' – Sarah Perry, author of The Essex Serpent
A Zoe Ball ITV Book Club Pick
'Sally Magnusson has taken an amazing true event and created a brilliant first novel. It's an epic journey in every sense: although it's historical, it's incredibly relevant ot our world today. We had to pick it' Zoe Ball Book Club
'A remarkable feat of imagination … I enjoyed and admired it in equal measure' Sarah Perry, author of The Essex Serpent
'A powerful tale of Barbary pirates … richly imagined.' Sunday Times
'Engrossing' Sunday Express 'Fascinating … a really, really good read' BBC R2 Book Club
'The best sort of historical novel' Scotsman 'A lyrical tale' Stylist
'A poetic retelling of Icelandic history' Daily Mail 'Compelling stuff' Good Housekeeping
'An extraordinarily immersive read … examining themes of motherhood, identity, exile and freedom' Guardian