Sarah Maine was born in the UK but grew up in Canada. Returning to England for university, she studied archaeology as an undergraduate and postgraduate, working as an archaeologist in York for many years. Vacations were spent with family exploring the Scottish coast and latterly lecturing for adventure travel companies in Europe and Canada and she still spends as much time as possible travelling. She loves to write about Scotland but also the places where Scots settled and where the memories of Scotland still linger. She has published four novels and her current project is set in Scotland, New Zealand and Australia.
Sarah's website: http://sarahmainebooks.com
Sarah's Twitter: https://twitter.com/sarahmainebooks
Sarah Maine is represented at Jenny Brown Associates by Jenny. For all enquiries contact jenny@jennybrownassociates.com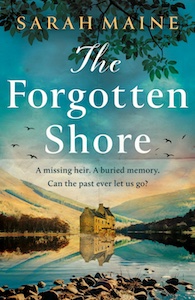 The Forgotten Shore
Hodder, 2023
We never leave the places we love – we carry them with us . . .
Wounded and guilt-ridden, war hero Archie Maxwell returns to Rosslie, his beautiful family estate in Argyll, where he finds himself in the uneasy company of his father's young new wife – and his own nightmares.
In the Newfoundland fishing harbour of Heart's Repose, eleven-year-old Eva Bayne strikes up an unlikely friendship with the local outcast, Tam Nairn. But against the threat of change, and the hostility of Tam's son, suspicions flare – until a crisis threatens to rip all their lives apart.
The disappearance of Rosslie's heir has cast a shadow over the Maxwell family for almost 40 years. When Eva, now a fledgling journalist, is drawn into the mystery, the glimpse of an old photograph unlocks painful childhood memories. Will the past give up its secrets?
Atmospheric, sweeping and poignant, this is a spellbinding story of family secrets, love and redemption.
The Awakenings
Hodder, March 2022
An immersive and compelling novel that explores the struggle by two women, divided across centuries, for control over their lives, set against a beautiful historical backdrop.
Yorkshire, 1890. Having lost her father and brothers in tragic circumstances, Olwen Malkon is forced to leave her childhood home to live with her uncle's family. In his chill vicarage, however, she fears that she is also losing her mind, as strange dreams take her into the life of Ælfwyn, a woman from a distant past whose fate is overshadowed by menace and betrayal.
In the grip of these afflictions, Olwen finds sympathy with the local doctor, John Osbourne, who is intrigued by her case. Suspecting darker undercurrents are at work, John comes into conflict with Olwen's family, who dismiss her as a hysteric and, when he seeks to protect her, with the law.
As the dreams intensify, danger awaits them both. But when they begin to mirror reality, she and John start to suspect that it is these visions of the past which hold the answers…
Alchemy and Rose
Hodder, January 2021
ALCHEMY AND ROSE was inspired by the last great gold rush on the west coast of New Zealand's South Island in the 1870s.
The quest for gold lured a flood of hopefuls from Europe, America, Australia and Asia and it brought Will from Scotland, with a price on his head. A shipwreck at the mouth of the Hokitika river also brought Rose, borne like flotsam upon a wave. It brought others too, the disgraced and the determined, each with their own quest to follow.
Alchemy is the means by which men seek to turn base metal into gold but, for the characters in ALCHEMY AND ROSE, there are transformations of another kind. They come from the old countries to the new, and follow their quests through recklessness, misadventure, mischief and attempted murder. From Scotland to the goldfields of New Zealand and on to the booming cities of Victorian Australia they wrestle with fate to find their fortunes.
–Waterstones Scottish Book of the Month
Women of the Dunes
Hodder, March 2019
On the rugged, sea-lashed coast of west Scotland lies Ullaness: home to the Scottish legend of Ulla, a Viking woman who washed up on Scottish shores centuries ago. The legend will bring the stories of three different women together…
In AD 800 there is Ulla, lost in a foreign country after her lover is brutally killed. Ellen, a servant-girl in the 1800s, catches the unwanted attentions of the master of the house's lascivious son. And, in the present day, there is Libby – an archaeologist who is determined to uncover an age-old mystery.
When a body is excavated from Ullaness – the body of someone who was murdered long ago – the mystery deepens, and the fates of the three women become ever more tightly bound.
–Waterstones Scottish Book of the Month
House Between Tides
Hodder, June 2018
WATERSTONES SCOTTISH BOOK OF THE YEAR 2018
'Scotland's Outer Hebrides provides the sensuous setting for this impressive debut…a beautifully crafted novel.' – Publishers Weekly
A captivating story of a crumbling estate in the wilds of Scotland, its century-old secret and an enduring mystery.
Following the death of her last living relative, Hetty Deveraux leaves London and her strained relationship behind for Muirlan, her ancestral home in Scotland – now in ruins. As Hetty dives headfirst into the repairs, she discovers a shocking secret protected by the house for a hundred years.
With only whispered rumours circulating among the local villagers and a handful of leads to guide her, Hetty finds the power of the past is still affecting her present in startling ways.
Beyond the Wild River
Hodder & Stoughton, April 2017
North American Rights: Atria/Simon & Schuster
This is a story of betrayal and murder set in the Scottish Borders and in the wilderness of northern Canada. Evelyn was once close to her father, the philanthropic Charles Ballantyre, but when James Douglas is accused of murder all that changes. Evelyn's fears, and the strictures of Victorian society, conceal the truth for five years and it is only when all parties meet again on the turbulent Nipigon river that she learns what really happened that afternoon on the banks of the River Tweed.